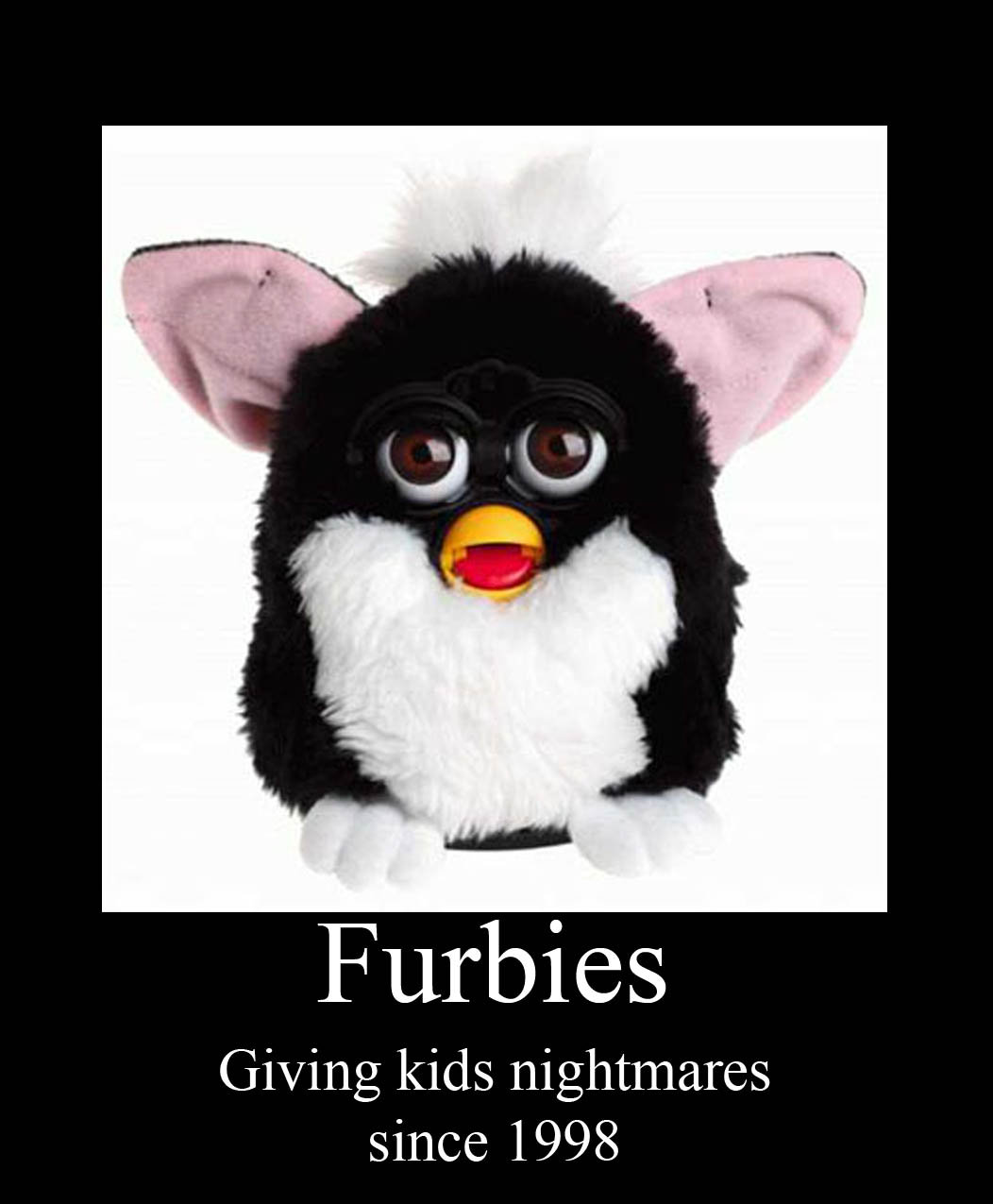 13 years ago, just a few weeks after my wedding, my mom gave my sisters and I Furbies for Christmas. Yes we were grown ups, SHUT UP.
My new husband has a phobia of dolls that come to life and was unamused. He and my brother-in-law finally gathered them all up, put them in the bathroom, and shut the door. After a few minutes, we heard disturbing noises coming from behind the door.
Those motherfuckers were TALKING TO EACH OTHER.
My husband denies it to this day, but my Furby disappeared almost immediately, and I know he did it.
Flash forward to this week.
We were visiting one of my favorite people, D, and her daughter, M. They found M a Furby at a local thrift store - one of the modern ones with computerized, pixelated eyes.
By creepy coincidence, the light was also out in their dining room.
The Toddler went into the dark dining room and started screaming. Not a pain scream. A terror scream. I had only heard that scream from her once before. A few months ago, we watched Ghostbusters with the kids, and when Slimer started coming at the camera, she let out a blood curdling shriek that gave me a panic attack.
Now, she was doing it again. We ran in expecting to find she had burned herself on the wood stove, or was being kidnapped by a
weeping angel.
I scooped her up and she pointed.
The Furby had turned on in the dark.
All you could see was its eyes.
And you could hear it babbling.
And you could hear her shrieking.
I don't believe in curses, but there's a part of me that knows the sin of my husband destroying my Furby has come back to haunt his offspring. I take this unholy event as confirmation of my 13 years-old suspicions. He took my ghoulish toy and thought that by removing it from our household, he had rid us of its evil.
He was wrong.