I am here to demand that you all stop posting anti-math memes. For two reasons.
One, you actually use algebra every day, but since you had bad math teachers or unnatural math-related learning in schools, you don't recognize it and think you must be bad at it.
Two, the more you spread anti-math sentiments the more you psyche other people into believing that math must really be impossible or difficult, especially since I only ever see WOMEN posting these memes on Pinterest and around the internet. I haven't found one anti-math meme posted on Pinterest yet. NOT ONE.
I'm willing to bet, however, that you know exactly how to watch the clock and determine how late you can leave the house but still make it to work or your appointment on time. You also know how to look at fractions in a recipe and double them. You can probably look at the sale price on a large bottle of dish detergent and determine if it's still a better deal than just buying two small bottles, or if buying something in bulk at Costco actually saves you any money. If you're like me you've probably had moments when you've calculated how much of your electricity bill you can pay this month that will make them happy enough that they won't threaten to turn your power off. If you crochet like me, you often fine patterns that say "crochet a starting chain in multiples of 7 (or 8 or whatever) or use the diameter/circumference of a circle for making hats. That's all algebra.
Algebra is just basic arithmetic, written out with an X instead of a question mark. 2/3 cup of sugar times 2 = ? or 2/3 sup of sugar times 2 = X. It's just a place marker.
And you are good at it. You're probably just very bad at being tested for it, or doing it over and over on a worksheet for a class. That's because math classes are about as good at teaching math as a bicycle class would be for teaching you to ride a bike by going over the physics. It's not practical so it doesn't make sense.
"Why do some children find Math hard to learn? I suspect that this is often caused by starting with the practice and drill of a bunch of skills called Arithmetic—and instead of promoting inventiveness, we focus on preventing mistakes. I suspect that this negative emphasis leads many children not only to dislike Arithmetic, but also later to become averse to everything else that smells of technology." - (source link)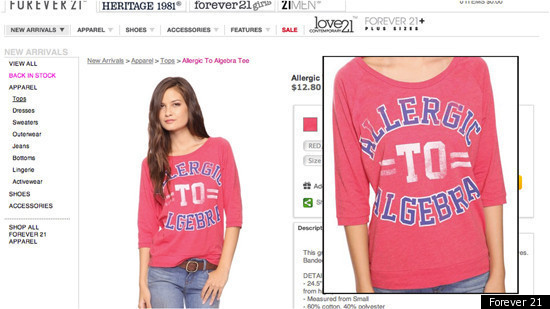 Actually I've been getting A's on college math, you condescending assholes
They go on and on, and they depress me every time. I know, I know...most of us will never use advanced algebra or calculus in our lives unless we go into computers, some medical professions, engineering, or, let's face it, math instruction. However, there's scarcely a moment in your day when you aren't doing some calculations in your head, but you've been taught that "math" is a bunch of crap plotted on a grid, and so you don't see math for what it really is, and you are convinced you can't get it. That seeps into our language, and our children hear it, especially our daughters, because it's almost always the sisters and mothers and other girl friends who are saying it.
When I recently went back to college, I received straight A's on all my homework and short quizzes, but kept failing exams miserably. 49% on a mid-term, and 58% on a final exam, for example. I realized that I wasn't bad at math, but bad at school math. I'm bad at taking huge tests about math under pressure. That usually translates to being bad at math, but that's not the real case. We're bad at school math.
My five year old's favorite subject is math. She asks me to help her with math all the time. When we do math, though, we use play dough, or Legos, or rocks, or chocolate. We use math in the kitchen. She isn't afraid of math because math isn't a worksheet of abstract problems and a test later. She hasn't been put into a school culture where girls are assumed to have difficulty with math, or where math is over-emphasized in the Core Curriculum at the expense of arts or science or physical activities. She loves math because she hasn't been taught to hate it.
You have been taught to hate it.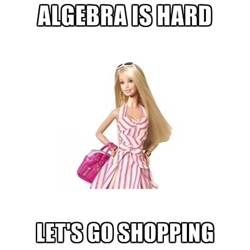 It's time to unlearn a hatred for math and find it's beauty instead.